Jason Jonas (New York)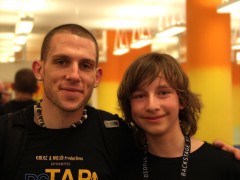 JASON JANAS originally hails from the Northern New Jersey area, and more recently from Charlotte, NC. His dance education is highlighted by his tenure as a charter member of the New Jersey Tap Ensemble, where Jason began his rhythm tap career under the direction of Ms. Deborah Mitchell. His interaction with other with tap dancers such as Mike Minery, Karen Calloway Williams, and Paris Mann of the NJTE, and with Ted Levy, influenced and ignited his career. He has performed with Mike Minery at the Supper Club in NYC, and more recently with Adrienne Canterna in Washington DC attended by V-P Cheney.
Besides personal performances, Jason teaches for Stepp With Me Dance Convention, Dance Power Express, and Dance Masters of America. Jason has instructed at Rhythm Dance Studio in Charlotte NC for several years. His tap dance choreography won the nationally televised July 2001 Showstopper National Talent Competition, while his choreography received a Runner-Up award for July 2002. Jason continues to teach and choreograph from coast-to-coast while he continues to grow as a rhythm tap dancer.