Maurice Chestnut (New York)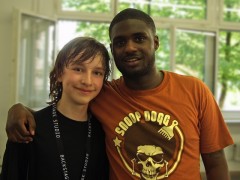 One of tap's brightest young stars, Maurice Chestnut is an original member of the New Jersey Tap Dance Ensemble. His extensive list of credits includes his appearance at Carnegie Hall and throughout Europe with the Geri Allen trio as a featured soloist, and his performances in productions with Savion Glover such as Bring In 'Da Noise, Bring In 'Da Funk, Improvography, Classical Savion, Tappin' Into Monk, Invitation to the Dancer and on "ABC-TV's Dancing With The Stars." At the turn of the 21st century, the Newark Star Ledger's arts reviewers named Maurice "one of the twenty New Jersey faces to watch for in the new century."
Straight from Newark, New Jersey, Maurice Chestnut introduces tap as an instrument. Maurice takes from his classical rhythm tap training and infuses hip-hop, funk and soul. Maurice Chestnut began dancing at the age of 5, under the direction of Mr. Alfred Gallman. At the age of 9 Maurice joined his first professional dance company; New Jersey Tap Ensemble. Under the direction of Ms. Deborah Mitchell with NJTE. He is currently principle dancer and choreography with the ensemble. Maurice brings us the soul which can only be inspired from the Hoofing greats, watching him dance is like walking through Harlem in the 1940's. Maurice has performed at many prestigious events such as; The Apollo Theater, where he was crowned Top Dog performer, Carnegie Hall yearly Jazz Festival, as well as the Playboy Jazz Festival. He was also featured on Sally Jesse Raphael's "My Kid's a Star. At the age of fourteen Maurice was named one of New Jerseys artists to watch in the "New Millennium". He was also a gold medalist in the NAACP's Act-So competition and was featured on the TV special. He has also had the opportunity to be on tour in the Tony award winning Bring in da Noise, Bring in da Funk, with Savion Glover. Maurice is working with Savion again, currently touring with his Improvographgy tour. His off- Broadway credits include Shades of Harlem, The Wiz, as well as Bubbling Brown Sugar, directed by illustrious George Faison at Atlanta's Fox Theater, where he played the role of Bumpy Johnson. Mr. Chestnut is now fusing tap as a live instrument in a band, he is touring with a show entitled "Can I Hit That".